Beaumont, Ca - Banning, Ca - Yucaipa, Ca - Redlands, Ca - Calimesa, Ca
"I regularly have had my carpets professionally cleaned for the past 40 years. I must say, EcoPro Carpet Care is the Best!!"
​-Debbie B. of Banning, Ca
EcoPro Carpet Care provides a truly phenomenal eco safe approach to your carpet cleaning experience. Through the use of our
truck-mounted
steam cleaning system. Your carpets will dry fast, carpets will will feel soft and fluffy, and will not have any type of re-soiling residue. At EcoPro Carpet Care we truly love what we do, and strive to provide the best carpet cleaning, tile & grout cleaning and even furniture cleaning. Schedule your carpet cleaning appointment with us to see why we have become the number one choice for carpet cleaning in Beaumont, Ca 92223 Yucaipa, Ca 92399 Banning, Ca 92220 Calimesa, Ca 92320 and Redlands, Ca. 92373 92374 92375
We are a local owner operated carpet and tile cleaning business. Aside from being an IICRC certified firm, and operating our mega truck-mount. What really sets us apart in the carpet cleaning industry is that we strive on genuine 100% customer satisfaction. We want you to feel good about choosing us, and that's why we go the extra mile.
At EcoPro Carpet Care Your experience begins when you make the initial call. We speak clearly, educated and honestly. We answer your questions patiently. We want you to feel at ease when hiring us. To us there is nothing worse than having to deal with customer service that does not value their clients.
Be confident and assured that your scheduled tile or carpet cleaning appointment. Will consist of us being on time, uniformed, operating the finest industry respected truck-mounted equipment, and going the extra step to make you say "WOW!"
EcoPro Carpet Care
is the floor care and furniture cleaning company that your friends and family recommend first! You can see our carpet cleaning reviews and feedback on
Yelp
and
facebook.com/ecoprocleans.
Your Local Tile, & Carpet Cleaning Professionals.
"He arrived on time, was immaculate and very knowledgeable. His van had very modern equipment. He vacuumed thoroughly before starting."
- Arlene M. of Yucaipa​, Ca

"Joe cleaned our carpet and tile. Sealed the tile also, left a spot remover bottle, gave helpful tips on maintaining natural store tile of different sizes in our front entry, kitchen, hallway, main bath, and family room.Excellent customer service. Prompt return of your left messages. Professional, detail oriented. First time using them and the results were amazing. We haven't had the tile cleaned that good ever and we have used a larger, well known company 3-4 years ago. We're sticking with Joe. He knows his tile and carpet. He loves what he does and treats your house like his."
- Fleur D. Yucaipa, Ca​

"Awesome job.. If your looking for somebody that knows what hes doing these is the Man.. From carpet to tile he's an expert.. Everything looks new when he finish the job.. Definitely will recommend to everybody i know.. the Albert Einstein of carpet..."
-Art I. of Beaumont, Ca​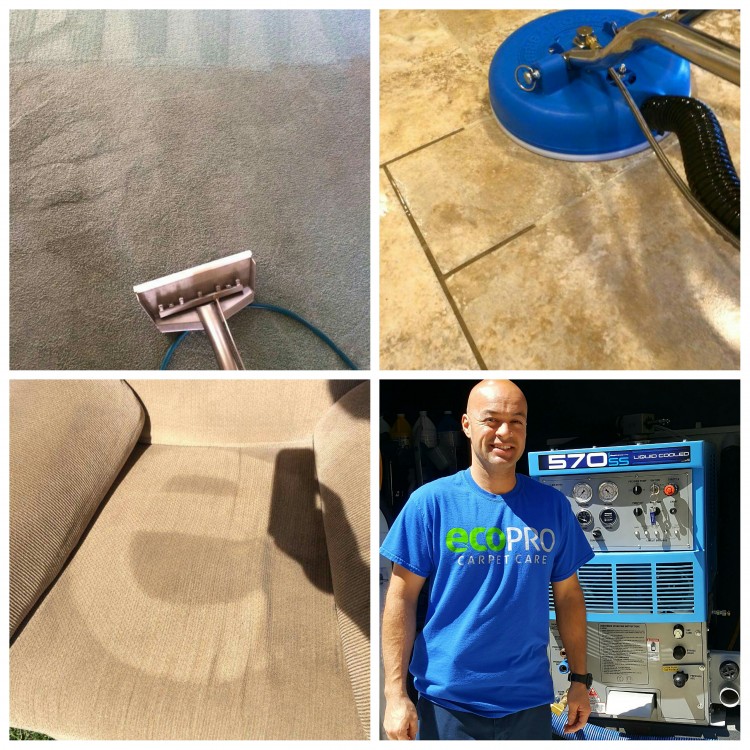 EcoPro Carpet Care is an ECOPRO, LLC company. ​All rights reserved 2016